Space 1889 & Beyond
New Space 1889 fiction is now available from Untreed Reads. Frank Chadwick will contribute volume #5, A Prince Of Mars. See Andy Frankham-Allen's blog for more info about the first volume along with a free sample!
Frank Chadwick's Space 1889 Blog
For all the latest updates on new Space 1889 developments, see Frank Chadwick's Space 1889 Blog!
Cossack Girl!
Marina Yurlova served in uniform as a fighting Cossack, volunteering in 1914 at the age of 14. Though repeatedly wounded in combat, she returned to military service and repeatedly won the St. George's Cross for bravery. Through the war and revolution, Marina encountered Turks, Kurds and Reds, drove cars and trucks, fought for the Czech Legion, trekked overland across Siberia, and finally boarded a ship at Vladivostok to travel to Japan in 1919. Remarkably, whenever asked, Marina never denied she was a girl.

She distills these five years of her life into a captivating narrative, filled with observations and impressions of places and people Marina encountered in her extensive travels through Russia.

Originally published in 1934 and out of print for decades, Cossack Girl is now available in print from Amazon.com, Barnesandnoble.com, and other online booksellers, in PDF from e23.sjgames.com, DriveThruRPG.com, and Paizo.com, and in eBook format from Barnesandnoble.com and (soon) the Apple iBookstore.

Enjoy our free PDF sampler, which includes the first chapter of Cossack Girl.
Paizo!

Paizo.com now carries our PDF products!
Free! Introduction To Space: 1889
Now available as a free PDF, the Introduction to Space: 1889 is a 16 page booklet originally found in the Sky Galleons of Mars boxed game. Download it from Drive Thru RPG or e23.
Free! The Original GDW Canal Priests of Mars!
As a teaser for The Complete Canal Priests of Mars, we're making GDW's original version of Canal Priests of Mars free from Drive Thru RPG and e23! If you like it, please consider the Heliograph version, which restores a third of the original manuscript and contains all new art and graphics!
The Complete Canal Priests Of Mars Now Available!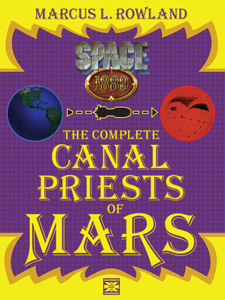 BASK! In the glory of London, hub of Empire!
TRAVEL! Aboard a luxurious ether liner!
MARVEL! At the wonders of Mars!


Our heroes help Martians accomplish a holy mission in London, then travel to Mars aboard the Princess Alexandra, the largest and most luxurious ether liner ever built! Throughout their journey they must face the hazards of London, the Ether, and Mars, compounded by mysterious enemies bent on stopping their Martian allies!

The original publication of Canal Priests Of Mars cut slightly over a third of author Marcus L. Rowland's manuscript to fit GDW's adventure format.

The Complete Canal Priests Of Mars restores the cut material, features all new artwork by Paul Daly, and adds many useful player handouts. Enjoy the "author's cut" of a classic Space 1889 adventure, or experience it for the first time!

The Complete Canal Priests Of Mars is avaialble now from Drive Thru RPG and e23. It should be available in print format in August.
Visit Heliograph At Gen Con Indy!
We'll be in booth 1635 at this year's Gen Con Indy! Come by and enjoy our Zeppelin Age demo game, Airship Troopers!

Available Now: Lester Dent's Zeppelin Tales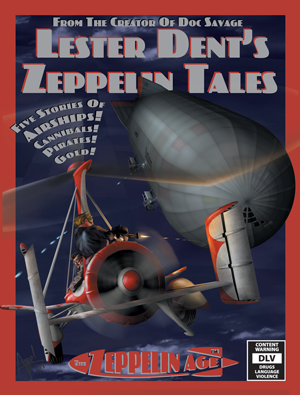 Lester Dent penned many pulp adventures before he created Doc Savage in 1933 under the house name Kenneth Robeson. Lester Dent's Zeppelin Tales collects five airship-themed stories published from 1930 to 1932, and includes material restored from Dent's original manuscripts!

"Zeppelin Bait": Jed Day, American Great War flyer, is framed for spying for a notorious German Zeppelin Captain! Originally published in the October 1932 issue of Sky Birds.

"Blackbeard's Spectre": Zeppelin pirates steal the passenger dirigible City of Oakland before its maiden flight to Japan! One of Dent's first published works, it originally appeared as "The Thirteen Million Dollar Robbery" in the March 1930 issue of The Popular Magazine.

"Peril's Domain": Bill Kirgan battles a pirate band on a Zeppelin en route to the Arctic! Originally published under the title "The Frozen Flight" in the February 1931 issue of Air Stories.

"Helene Was A Cannibal": What menaces the flight of Germany's newest Zeppelin, the Vaterland? Originally published as "Teeth of Revenge" in the May 1931 issue of Scotland Yard.

"A Billion Gold!": A private dick gets mixed up in a Zeppelin-sized scheme in New York City! Originally published as "One Billion-Gold!" in the June 1931 issue of Scotland Yard.

Lester Dent's Zeppelin Tales is nearly 100,000 words of pulpy goodness, and is available now as a PDF from e23. It should be available from most online booksellers shortly (it is currently listed with BarnesAndNoble.com and Amazon.co.uk), and you can special order it from your local bookshop: just tell them it is available from Ingram or Baker & Taylor in the US or Blackwell's or Bertram's in the UK.
Old News
See our News Page to review our archive of announcements.
Promotional Materials
We're currently updating our promotional materials for our new releases, and will post ads and other goodies here as they're available.

Last Updated Tuesday, 17-Jan-2012 23:05:38 EST

Comments to webmaster@heliograph.com
---
Copyright 2012 by Heliograph, Inc. Space:1889 is Frank Chadwick's registered trademark for his game of Victorian era space-faring.